Chan Gurney Municipal Airport
John Chandler "Chan" Gurney was the oldest son of Deloss B. and Henrietta Gurney, and was born in Yankton on May 21, 1896. His dad started the Gurney Seed & Nursery Company. At age 6 he survived a case of diphtheria. Chan graduated from high school and went to work for the seed company in a bookkeeping capacity.
Gurney Seed & Nursery Company: Chan marr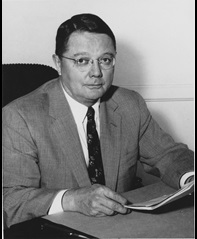 ied Evelyn Bordeno on July 4, 1917. Her grandfather was one of the builders of the Excelsior Flour Mill, which still stands next to the Gurney's Seed Company complex in Yankton. At age 21 Chan joined the Army and served with the American Expeditionary Forces in Europe serving as a sergeant in Company A, Thirty-Fourth Engineers, but was sent home after an attack of spinal meningitis. He returned to work at the Gurney's Seed & Nursery Company.
WNAX Radio Station: Chan became intrigued with the new wireless phenomenon, aka radio, and participated in early broadcasts from the Brecht Winter Garden (basement of Brecht Drug Store on Main Street). He convinced his father to buy radio station WNAX (WNAX signed on the air in 1922. The call letters represented "North American radio eXperiment.") for $2,000 after which it became "The Voice of the House of Gurney" on Feb 28, 1927. In his early 30s Chan was the play-by-play announcer for state basketball tournaments over the company-owned radio station – making him well known throughout South Dakota. He was the station manager until 1932.
Gasohol: For a 3-year period (1932-1936) Chan lived in Sioux Falls and started a wholesale gasoline and oil business. His father D.B. was invited to Dearborn, Michigan, by Henry Ford to discuss the use of grain alcohol as a motor fuel. D.B. purchased a closed brewery in Atchison, Kansas, and began marketing WNAX gasoline (gasohol) with a 5 percent blend of alcohol.
U.S. Senate: In 1936 at age 40 Chan ran for a U.S. Senate seat but lost to William J. Bulow. He continued campaigning for 2 years and in 1938 won a Senate seat against ex-governor Tom Berry. Chan served for two terms -- 12 years (1939-1951) – with the principal goal of winning World War II and maintaining military strength in the post-war period. While in the U.S. Senate, Chan chaired the Senate Armed Services Committee. Senator Gurney lost his bid for a third term in the Senate in 1950 to Francis Case.
Missouri River Dams: Senator Gurney was involved with Lt. Gen. Lewis A. Pick of the U.S. Armey Corps of Engineers and W.G. Sloan of the Bureau of Reclamation, which resulted in the Pick-Sloan Plan for damming the Missouri River. Chan championed Yankton as part of the Pick-Sloan Plan – resulting in Gavins Point Dam and Lewis & Clark Lake.
Civil Aeronautics Board: President Harry S. Truman appointed Chan to the Civil Aeronautics Board (CAB) in 1951 in recognition of his great service to the country. The CAB was entrusted with safety rulemaking, accident investigation, and economic regulation of the airlines, whereas the Civil Aeronautics Administration was responsible for air traffic control, safety programs, and airway development. Chan became chairman of the CAB in 1954. President Eisenhower reappointed Chan for a second 6-year term in 1958. In that role he supported development of the Yankton Airport. Chan retired from the CAB in 1964.
Aviation: The Civil Aeronautics Commission approved a pilot training course at Yankton College in October 1939, but by April 1941 Yankton was in danger of losing the course because federal inspectors cited lack of adequate runways, hangar, and shop facilities. Senator Gurney intervened, the training program got a reprieve, and the declaration of war following Pearl Harbor bombing emphasized the need for future pilots.
In November 1942, Naval cadets began flight training at the old Yankton Airport (located east of the Milwaukee Road tracks on what is now Fox Run Golf Course). In early 1943 Naval officers visited Yankton to investigate the possibilities of an enlarged Naval Cadet Flight Training Program, but by April 1943 the Navy seemed to lose interest because of the lack of adequate airport facilities. On January 20, 1942, a $45,000 bond issue had been approved to acquire land for a new airport, but the city had procrastinated. Senator Gurney intervened again to delay the Navy's withdrawal with the condition that an improved airfield would be completed by mid-May 1942.
The airport at Yankton became a reality largely because of wartime needs. Senator Chan Gurney was instrumental in overcoming hurdles to further develop the airport.
Senator Gurney intervened with the War Assets Administration and made it possible for Yankton College to get a surplus airplane hangar, which became the core of Nash Gymnasium dedicated in 1948.
Chan was on the board of directors of North Central Airlines, which served Yankton for a time.
In honor of Chan Gurney's contribution as a U.S. Senator, member of the Civil Aeronautics Board, and his unflagging support of Yankton, the Yankton Municipal Airport was renamed "Chan Gurney Municipal Airport" on April 20, 1965.
John Chandler "Chan" Gurney retired to Yankton in 1965, and died on March 9, 1985, at age 88 in Yankton. He was buried in the Yankton Cemetery.