June 2020 Meeting Highlights
We finally got to meet again.

The chairs were spread out in large hanger.
We plan to meet in July but the date will be changed to July 12 to avoid the 4th of July holiday.

The location will be at in Tommy's hanger at Carroll Co. instead of the conference room at Paris to give us more room for social distancing.
A dinner is still on the agenda but will wait for things to clear up some more.
Hank is in charge of the Tri-Pacer parts.
Three of our teens are about to take FAA Written Test--Two for Private Pilot and one for Instrument.
Chester has the last part of his horizontal stabilizer.

Chester is 15 and is building a Zenith 750 Super Duty.
We had a brief lesson on doing calculating weight and balance.

More pictures from this meeting
Ray Aviation Scholarship 1st Meeting
This meeting was Way more challenging than anyone would have expected. We waited for months for the TN Covid-19 recommendations to allow a meeting but that wasn't the end of the problems. We kept the group under 10 but still almost had to have the airplane land at a park instead of the airport (Dale says the RANS could have done it). Then one family couldn't get to the airport because the roads were blocked by a shootout and standoff. The FAA Written Test should seem easy after this.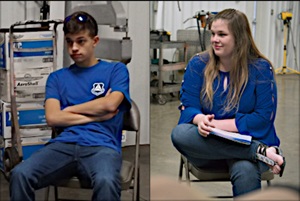 More pictures from this meeting
Pilot Graduates from High School
One of our pilots is graduating high school today.
Congratulations Dale!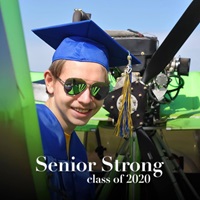 These photos may bring up some memories or just introduce you to one of our young pilots.
Dale graduates from High School on May 22, 2020 He will attend MTSU in the fall to pursue a degree in aerospace as a professional pilot. He is a Private Pilot with glider and single engine land ratings. He has tailwheel and high performance endorsements. He earned his pilot's certificate before his driver's licenses. He flew Young Eagles while he was still a Young Eagle himself. We went from Solo to Checkride in one week!
April and May Meetings were not held due to restrictions imposed for Covid-19.
March 2020 Meeting Highlights
Our chapter will get to nominate a teen for a Ray Aviation Scholarship this year!
A first hand story was told of flying over LBL (Land Between the Lakes) at night with old and questionable instruments.
The Young Eagles event at Everett-Stewart Regional Airport (Union City) was discussed.
Chester has been working on the tail of his Zenith 750 Super Duty.
Solid Rivet workshop after the meeting. Hands on experience with different ways to set the rivets, countersinking, and drilling.
Meeting held in Tommy's hanger at the Carroll County Airport.

Chester and Henry rivet as Tommy supervises. More pictures from this meeting.
February 2020 Meeting Highlights
Our president walked in and says he is doing well. He took a test flight in a medical helicopter last month but plans to be flying himself soon.
Our vice president walked in without a cane and he says he is doing better.
Some members missed this meeting due to sniffles but nothing major.
We got a PIREP type report about one of the Boy Scouts we flew last month. He is still very excited about aviation. It was very nice to get a report from someone that wasn't even there because one of the kids was so motivated by his first flight.
We flew 20 Young Eagles at Jackson last month. Most were Boy Scouts and a few were Civil Air Patrol Cadets. Seventeen of them were first flights—actual first time in a airplane for most.
A Young Eagles event is scheduled for April 18 at KUCY (Everett-Stewart Regional Airport, Union City).
January 2020 Meeting Highlights
Family Chapter Membership now available. We only had individual memberships before.

Hank and Wilson are work on a VMC Club

Tommy took a ride in a helicopter. The problem was it has a big red plus on the side and he was in the horizontal "seat". We wish him well as he recovers from bypass surgery.

Dale helped remove debris at his airport. The problem was that he used a tire which made an interesting landing and taxi back. He handled it fine. The tire has been repaired and he has already flown again.

Chester (14) and Paul weren't at the meeting but they have been riveting away on Chester's Zenith Super Duty.

Many of our planes are equipped with ADS-B out even thought it isn't required were we fly most.

It is time to volunteer for the Boy Scout event later this month.

We had four guests. We hope they will decide to join our chapter.

We had one "Bald" Eagle flight and two Young Eagle flights before/after the meeting.
"A Dream Becomes Reality"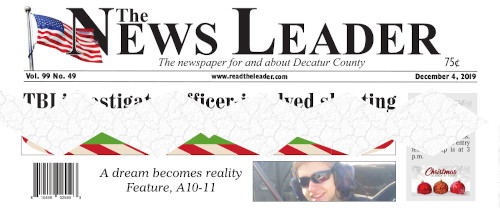 Dale_in_Newspaper_12.4.2019.pdf
Dale's hometown paper has a two page article about him. The above clip is from the front page and pages 10 and 11 are in the .pdf file.
November 2019 Meeting Highlights
Elections

Larry Swor, better known as Tommy, will be Chapter 734's 2020 President

Bill Stoner will move down to Vice President

Tony will keep his jobs as Secretary and Treasurer.

Union City Young Eagles

Everett-Stewart Regional Airport, KUCY in Union City, will be added to our Young Eagles schedule next year. We expect to return to Paris-Henry Co., Carroll Co., and Benton Co. No dates have been discussed for any location.

Two more Young Eagles have decided to join Chapter 734. Savannah and Colin hope to be US Air Force pilots in a few years.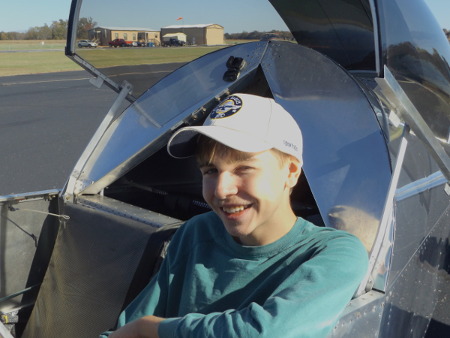 Dale just got his hat for flying 10 Young Eagles
Best of all, he got it while he was still a Young Eagles himself


Dale tossed his hat beside a sign that read "Not for Dale. DENY him food and water." and then he read the sign. Dale turned 18 just before the meeting removing the restriction of denying Young Eagles food, etc. He reminded me that he had his shirt tail cut off (when he soloed) and was anointed with aviation oil when he got his (Single Engine Land rating) so he had been "picked on" as a Young Eagle anyway.

Two new teen joined Chapter 734 today. Don't they look excited? All four teen (another is on the other side of the room) got to fly in the president elect's 182 after the meeting. Guess the pilot.
August 2019 Meeting Highlights
Dan sent a note telling of his trip to Oshkosh with a stop in Broadhead for the Pietenpol Reunion. Apparently they were out in the storm trying to manually hold down the Piets in a very exciting evening.

Chester was also at Oshkosh and he started the build of his Zenith 750 Super Duty. Oshkosh/AirVenture, home of the EAA (Experimental Aircraft Association) may be the perfect place for the birth of an airplane. By the way, Chester is 14. He still has to bum a ride to the meetings but it is perfectly clear that the airplane build will be his project.

Paul just returned from England where he flew over some interesting places.

Fish and sweet corn was a hot topic again. Maybe we will actually get to eat some on October 19 around 5pm.

Dale has taken possession of his RANS, had it inspected, and has flown it home. Dale is not just our 17 year old pilot but a 17 year old "test pilot". The RANS had not flown in a few years so it is in a return-to-service state. He plans to have it on display at the Young Eagles event Saturday.

Wilson has a new Champ. It is 65hp and he thinks it doesn't climb well. Maybe it is missing a few thousand hp from his past planes (jets).

Young Eagles Rally next Saturday September 10. Everyone should be there about 8:30 and the kids should start arriving at 9am. Tommy says he will cook hamburgers after the event is over around 2pm. Registration in the terminal building. New Blue Eagle 1 for those too young to fly, mini homebuilt workshop, paper plane, air rockets, hot air balloons, and a simulator will be in the 2nd hanger. Please stay close to the buildings and watch for planes on the way to the hanger.

These are just brief notes. If you want the rest of the story, be at the next meeting on September 8—moved back one week to get it off the Labor Day weekend. Bring a fiend.

Chester building
HIS Zenith 750 Super Duty


Chester trying out Zenith's 750 Super Duty demo
July 2019 Meeting Highlights
Wilson suggested frying fish and he and John will be harvesting sweet corn soon. They decided that they wanted to wait until it was cooler to schedule a family day to cookout. Some were ready to start cooking when the meeting adjourned. We went home hungry.

The Young Eagles Rallies for August 10 at Carroll Co. and September 14 at Henry Co. are firmly scheduled. Benton Co. will be in October but we haven't been given a preferred date yet.

Kami will be adding some graphics to the "Blue Eagle 1" demonstrator with Robert, Hank, and her dad.

Hank has pictures of the steam gauges from the Tri-Pacer which we would like to sell. He is working on the other parts.

Wilson has a new-to-him Champ 7AC.

The trust has released Dale's RANS so he is feeling more like an airplane owner. It will need a condition inspection before he gets to fly it.

Robert is trying to get space at Henry Co. for his Super Parasol. It is ready for its first flight.

John has added a high performance rating.


Dale discusses the Punch Test with EAA Tech Counselor Tommy.
Does Bob look concerned as Dale performs the test?
June 2019 Meeting
Meeting at Robert's Shop in Big Sandy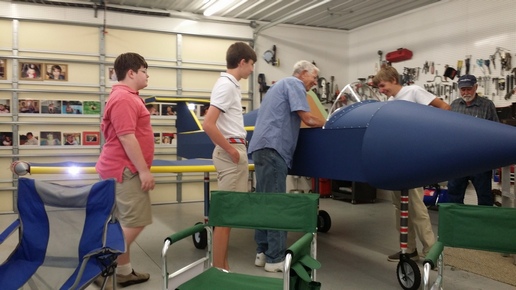 Inspecting the new Eagle Chick One, a demonstrator for youngsters under 8 years old (under the age to fly Young Eagle flights in a real plane).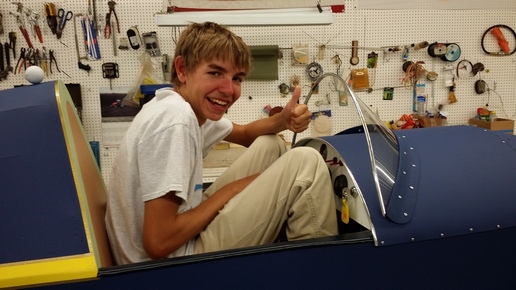 No! You don't fit!
This is for those Under 8 years old.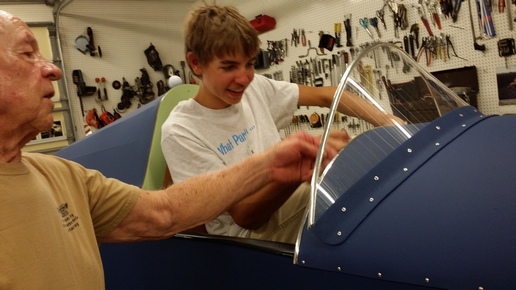 Instructions from the builder, Robert. This plane has controls, switches, lights, and makes sounds.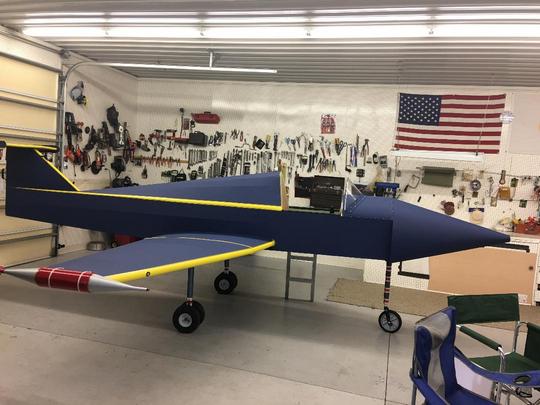 Tony sent a better picture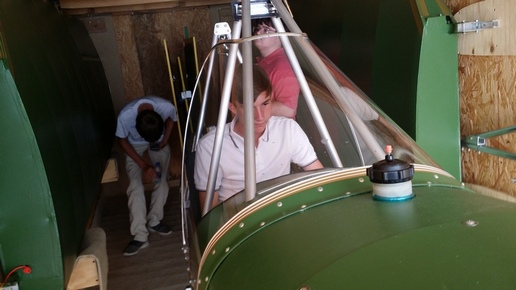 The boys found a real plane in its trailer waiting for a trip to the airport. They are giving it a once over. Tailwheel--"I have a rating for that". Pitot hose--"what is that". Gauges and switches--"check".
Meeting Highlights
Tentative dates for more Young Eagle Rallies are August 10 at Carroll Co, September 14 at Henry Co. and sometime in October at Benton Co. Dates are very tentative at this time.
A Tri-Pacer cleaning party is scheduled for Tuesday.
Chester and Dr. Paul have ordered a Zenith 750 Super Duty tail kit. Chester will be the builder and the plan is to have the plane flying by the time he is old enough to solo in two years.
A 3D printed P47 is being painted, a Piper has a cracked spinner from a bird strike, a first plane purchase is waiting to clear probate, and several experimental owners need to get back to building (little or no work done last month).
May 2019 Meeting
Held on Saturday after Henry Co. Young Eagles Rally (odd day and time)
Brief Notes from meeting:
30 Young Eagles flown at Carroll Co. rally.
85 Young Eagles flown at Henry Co. rally.
Brief discussion about a hamburger/hot dog social flying/drive in as our next event but no date was set.
Wilson sold his Champ
Tommy's 182 is flying again with update instruments, etc.
Dan finished the main welding on the Whittman Tailwind's fuselage.Kami is paint her 3d printed RC P47.
NEXT Meeting – At Robert's shop in Big Sandy. It will be the normal date and time, just the location will be different. (we will get good directions eventually)
April 2019 Meeting Highlights
Young Eagles Rally at Carroll County Airport next Saturday (April 13 or April 20 if it rains).

Adding another Young Eagles Rally at Paris-Henry Co. Airport on May 4.

Next meeting moved from May 5 to May 4 and it will follow the Young Eagles event at Paris.

Jerry Wieck is looking for a good home for his brother's Rans S12XL and his gyro kit.

Kami has added an engine and ailerons to her RC project. She had one servo installed.

Dale is now a private pilot with a Single Engine Land and a Glider rating. He did 30 hours and 70 landings in one week to go from Solo to Check Ride over spring break. He got to do a low pass in a 1943 Stearman as finale for the week.

Kevin passed his Commercial written test
Solo to Check Ride in ONE WEEK!!!!
Young Eagle and Chapter 734 member Dale is now a Private Pilot with a Single Engine Land rating. He Soloed on Sunday and took his Check Ride on Saturday of the same week.
His first solo was in a taildragger, a Cessna 120, so he is a member of the elite tailwheel group. He also soloed a Cessna 172 to use for the check ride. So he has two solos in the same week.
Solo
One of our Young Eagles took his first solo flight in an airplane today!
Well Done Dale!
-----------------------------------------------------------------------------------------------------------
Since he has flown with virtually all of our pilots and still wants to fly by himself, it makes one wonder what he thinks of our flying. His tail feathers may need trimming.
Written Test
One of our Young Eagles who is also a Chapter 734 member passed his Private Pilot-Airplane written test March 9. He did excellent with a score of 90. He used the Sporty's Ground School which is free to Young Eagles.
Two of the older members also took and passed a Private and a Commercial test.
This is a sneak peak for the next meeting the first Sunday of April.
Join us at the Paris-Henry Co. Airport April 7.
March 2019 Meeting Highlights
Young Eagles Rally next month was the main topic. Carroll Co. Airport (HZD), April 13, 9 to 1:30, (rain date 20th).

Young Eagle Kami's RC P47 build is progressing exactly like most of our full scale projects; nothing has changed since last month.

In fairness to some of our builders, Robert is waiting for good weather for his first flight and Tommy's updates are about finished on his 182. Not everyone is just procrastinating, and maybe some people just like having wings in their living room.

Young Eagle Dale will be taking his FAA Written next Saturday. He took advantage of the Sporty's free ground school for Young Eagles.

The rain/snow kept anyone from flying in and the room was not as full as last month.

This is just "highlights" from the meeting, join us next month to "get the full experience".
February 2019 Meeting Highlights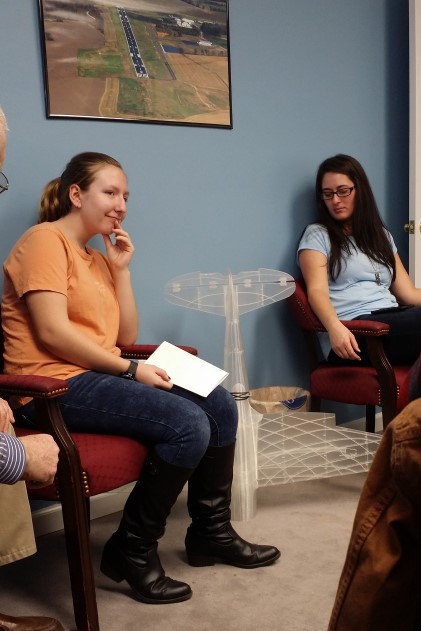 Kami is building a historic RC Replica that was 3D printed. She reported on the original plane and the 3D printed model. She expects to eventually fly it.

Chester took his First Flight Ever and became a Young Eagle. (Thanks Jim)

It was a beautiful day for flying so several plans were on the ramp and the room was filled with members, several guests we hope will join Chapter 734, and a couple of returning members.

While the cold will probably return to Tennessee soon, Dale will be leaving in a few days for some Cessna 120 training in Florida.

The normal winter weather has limited the Tri-Pacer work but Hank has done a little sorting.

Lots more went on. Come join us next month if you want "the rest of the story".
January 2019 Meeting Highlights
The Chapter's next project is now at the airport. It needs an inventory and some cleanup some warm weekend.

Robert is also waiting for a warm day for his first flight. The plane and its trailer are finished. The plane was inspected last summer but the trailer wasn't ready to take it to an airport.

A former Young Eagle returned today. Dean flew his first flight with Tony many years ago. He is trying to form a fling club in Paris.

We got to see Paul's Glasair FT for the first time at today's meeting. He said the fuel gauges/selector has been change on this one. Apparently his brother decided to fly commercial after they "tested" the odd setup on his last Glasair over New Mexico. It apparently gets exciting when the prop stops turning. They switched tanks and only lost a few hundred feet but it was apparently an exciting few hundred feet.

Wilson told of a flight at 50,300 feet over Tokyo which annoyed the controllers because it took them a long time to get down to land. The 747 passenger jet was higher than he had been in a fighter in his previous career. He now flies a Champ.

Not to be outdone, Richard said he had opened the hanger door and looked at his Sonex. <g>

Before the meeting we discussed going to AirVenture 2019—AirVenture discussion to be continued later.