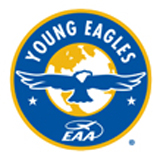 Founded in 1992, the Young Eagles program is dedicated to giving youth ages 8–17, an opportunity to go flying in a general aviation airplane. These flights are offered free of charge and are made possible through the generosity of EAA member volunteers.
It's the only program of its kind, with the sole mission to introduce and inspire kids in the world of aviation.
Today, the Young Eagles program has flown over 2 million kids.
For more information from EAA headquarters about the Young Eagles program, visit www.encages.org
Due to a high wind advisory from the National Weather Service for our area, the Board of EAA Chapter 604 has postponed this event for safety reasons. We have rescheduled the event for Sunday June 27, 2021. If you had registered a child for this event, please login again and confirm that you want to keep you time slot for June 27. If you are unable to keep the appointment, please cancel your reservation and contact us to make other arrangements to get your child on a flight. We apologize for any inconvenience this may have caused.