Experimental Aircraft Association's (EAA) local chapters are about people, bringing together individuals interested in learning more about aviation as well as sharing their own knowledge. Founded in 1953, the EAA is now an international organization with nearly 1000 chapters worldwide.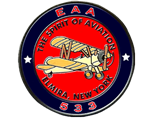 Chapter members are involved in a variety of social and educational activities, including Young Eagles rallies, fly-ins, building seminars, and more, to build awareness in the community. EAA membership is open to anyone interested in sport aviation: professional pilots, weekend pilots, and non-pilot aviation enthusiasts. Member primary motivation is flying for the pure pleasure of it – the true definition of "Sport Aviation." EAA encourages hands-on construction, repair, and rebuild of aircraft at home or as a group activity at chapter facilities. See some of our members on-going Projects, or visit us on one of our meeting nights or other activities. A list of our regular meetings is found below.
We are a 501(c)(3) non-profit organization.
---
Monthly Meetings
Board Meetings – 1st Wednesday of Each Month 7pm
Our board meets the 1st Wednesday of each month at our clubhouse and hangar. All are welcome to attend. Meeting notes are published in our monthly Newsletters.
Pancake Breakfasts - Every Sunday 7:30-9am
Meet members and learn more about Chapter 533 any Sunday morning, at our cook-it-yourself two dollar breakfast from 7:30-9:00 am at our clubhouse and hangar. Enjoy pancakes, eggs, sausage, coffee, and orange drink - plus airplane talk! After breakfast, stay with us for hangar flying and aircraft work sessions. All are welcome.
Fly/Drive-In Breakfasts - 1st Sunday June-Oct, 8-11am
**The June and July Fly/Drive-In Breakfasts will not be held.**
The August Fly/Drive-In Breakfast is on hold. We are working to prepare for an August Fly/Drive-In Breakfast, complying with new safety measures. Please contact us to express your interest so that we can prepare-EAAChapter533@gmail.com. More information will be provided following our July Board Meeting.
Fly or drive in and join us for breakfast on the 1st Sunday of June-October, 8-11am. Enjoy pancakes, eggs, sausage, coffee, and orange drink - plus airplane talk! All are welcome to attend. Adults: $8 and kids 12 and under: $5.
---