Regular Meeting info:
EAA441 is back to in-person meetings
The EAA chapter 441 annual picnic. July 26th, 6pm at the Mellema Hangar.
Please bring a dish to share.
You are welcome to wear masks and bring your own food or just visit if you are not comfortable eating together. We will have hand sanitizer and wipes and decide how to place food at the picnic.

Remember that over the last 18 months we may have developed a few sharp edges that need some burnishing. Be gentle with each other.

If things continue "back to normal", we will meet on the 4th Monday at 7:00pm, The Mellema Hanger on Taxiway A at Crest Airpark - Norman Grier Field (S36). 17605 SE 288th PL, Kent, WA 98042.
On the sectional chart you'll find the airport listed as "Norman Grier Field"
In the chart supplement, listed under Kent WA, Norman Grier. CTAF 123.0
Exceptions to the usual 4th Monday are normally July (no meeting, Arlington Fly-In, Oshkosh) and December (Xmas party different location and date/time).
2021 Meeting Schedule:

Virtual until further notice: 25 January, 22 February, 22 March, 26 April, 24 May, June 28,
July = Fly-Ins? TBD
23 August, 27 September, 25 October, 22 November

December - see Holiday Party notice in November Newsletter.
How to get to Crest Airpark - EAA 441: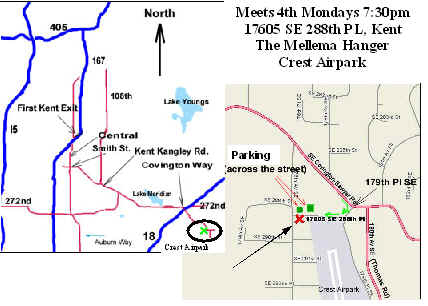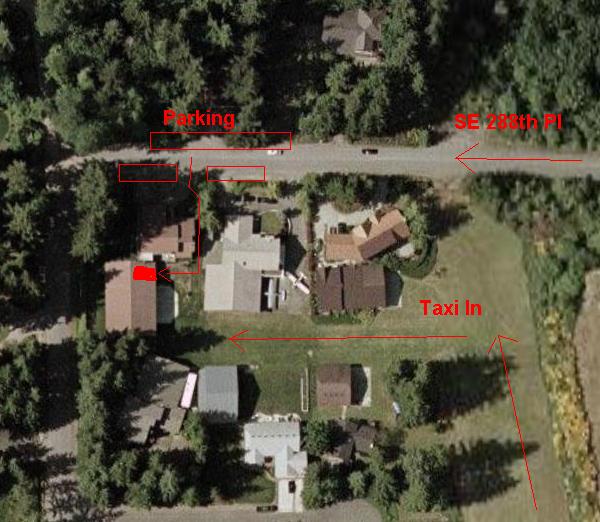 Flying In?