Everyone,

On December 15, 2020 the Board of Director for EAA Chapter 22 met at Cottonwood. Here are the updates from the meeting.

1) Due to COVID-19 monthly meetings will be cancelled and the board will continue to monitor the situation. Small gatherings like build nights, ground school and board meetings will continue to follow the county guidelines. If you are interested in virtual meetings i.e. Zoom, please let us know and we will work on it.

2) Board discussed liability insurance and what is covered. It was decided that children under the age of 14 need to be supervised by a parent or guardian at all times in the hangar and at the airport.

3) The Chapter has received a free copy of the new Microsoft Flight Simulator. A new computer will be needed to run the program. The estimated cost for a good set up would be $800-900. For all expenses over $500 the Board needs membership approval. The Chapter is in very good financial shape and the Board feels this is a good investment. If you have any concerns please contact a Board member or respond to this email by January 15, 2021 (before the next Board Meeting).

4) The Chapter will be submitting for the Ray Scholarship in 2021. Please contact Mark Grocholl if you want to help out.

5) Lastly the Board completed the renewal process 2021 with EAA.

If you see Pat Stroup, please thank her for putting together a great newsletter.

Hope to see everyone soon,

EAA Chapter 22 Leadership
---
Engine for sale: GREAT PLAINS VW 2180

•

$3,500

•

CLEANING OUT THE HANGAR

•

Great Plains VW 2180 engine never run since new. Deil rear accessory case with starter, Slick mag, prop hub, crossover exhaust, remote oil filter and cooler, KR2 engine mount. Engine opened up, no corrosion

•
Contact Brian Stukenberg , Owner - located Byron, IL United States

•

Telephone: 8159885831
Click here for Barnstormers link with pictures.
---
Here is what is going on:
Mondays, -- Build night for the Murphy Rebel.
Thursdays, -- Cessna 150 Build Night and Ground School
Thursday at 6:30:
- Ground School will continue. We are will continue on weather theory and reports. Once we finish up on weather the next topic is calculating aircraft performance and weight & balance. Anyone who wants to brush up and learn more are welcome to join us.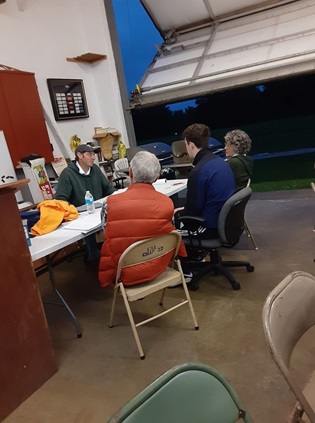 - Building continues on the Cessna 150.