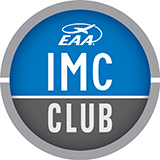 The Next Meeting of the Columbus EAA IMC Club will Be February 26, 2020
All IMC meetings are held from 7:00 pm to 8:30 pm at the Quest Conference Center located at 8405 Pulsar Place, Columbus, Ohio 43240.
Topic: Mitigating task loading, error threats, and automation traps through Risk and Resource Management will be discussed.
Speaker: Scott Van Ooyen, ATP
Description: In the past few years, major air carriers have made a significant effort to improve their capabilities with Risk and Resource Management (RRM) processes and procedures. These efforts have been acclaimed by FAA personnel, the pilots themselves, and union officials who represent the pilots. RRM is a framework that fully integrates crew resource management, threat and error management, and technical skills to improve operational effectiveness and safety. Scott Van Ooyen, ATP, Southwest Airlines Standards Check Airman/Captain, and assistant coach of the OSU Flight Team, will underscore a number of situations—including task loading, common error threats, and automation traps—where RPM proves to be an invaluable asset. He will demonstrate how to recognize threats, and, more importantly, how to mitigate them. His presentation and discussion will apply to the full range of pilots from student pilot to advanced ATP.
For more information on this IMC meeting or to register for Wings credit please go to or click the link:
https://faasafety.gov/SPANS/event_details.aspx?eid=98662&caller=/SPANS/events/EventList.aspx
Future IMC Meeting dates:
Wednesday, March 25, 2020
Wednesday April 22, 2020
Wednesday May 27, 2020