THANK YOU for donating to EAA Chapter 106!
See also AmazonSmile below (Free to you, $$$ to EAA106)


EAA Chapter is an IRS-designated 501(c)(3) public charity.
Consult your tax professional about your charitable deductions.
Our EIN number is: 11-3781759

If you are making a large donation and are willing to pay by check, that will help us avoid larger processing fees. If you do send a check, please make it payable to EAA106, annotate the memo field with the donation purpose (see below four funds), then mail it to our Treasurer using this address: EAA106, c/o Penny Bowman, PO Box 420, Topsfield, MA 01983 -- Please be sure to include your e-mail address so that we may send you a thank you note and/or to ask the fund question if you forget to select one. If your donation is $100 or more, please be sure to include your snailmail address so that we may send you a written letter of thanks.


When you click the below button, please use the drop-down to indicate which fund received your donation.
Four funds:
General Fund - Help support the chapter's general expenses such as for programs, events, etc
Tools Fund - Help us expand our tools as we grow our chapter and programs
Hangar Fund - Help with the cost of improvements and maintenance of our facilities
Youth Scholarship Fund - Help send more youth to EAA's Advanced (ages 16-18) Air Academy.
Note: You do not need a PayPal account. There is a button on the next screen which says: "Donate with a Debit or Credit Card"

Do your Amazon shopping (same products, prices, services) by starting at:
smile.amazon.com
Click on this image to learn more and support EAA Chapter 106: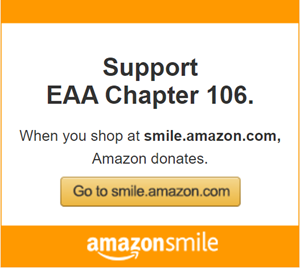 or go to:
https://smile.amazon.com/ch/11-3781759